Counselling Within a General Practice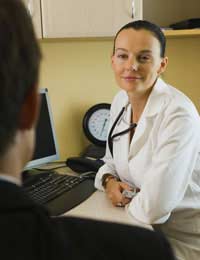 Counselling from within a General Practice is considered to be a specialist type of counselling. There are many counselling roles available within the Primary Care team, and qualified counsellors can develop their supportive skills considerably. Counselling in general practice can be provided by a number of professionals, including doctors, community psychiatric nurses, health visitors and counsellors.
Special Services
A high percentage of problems that a patient will present in a GP's surgery will be psychosocial based. Meeting the needs of these patients has therefore increased the counselling provision, which is available in primary care. It is estimated that around half of the general practices in England provide counselling services and support. This service helps patients deal with decision making, resolving specific problems and difficulties and improving relationships with other people.
Counselling can provide a useful form of treatment for clients suffering from mild to moderate mental health issues.
Primary Care Counselling
Primary care counselling sessions tend to be brief – between 6 to 12 appointments – and deal with a specific problem or issue. A GP will generally refer patients, to a counsellor, if they are suffering from stress, depression, anxiety, chronic fatigue or relationship issues. It also provides the patients with bereavement counselling and palliative care. Behavioural counselling is also available from a general practice, and can help adults overcome a number of medical problems and concerns.
Practitioners will recommend counselling to patients they feel will benefit from this form of supportive assistance. Patients requiring support because of complex social problems, a history of trauma or severe depression will be referred to a psychotherapist or community mental health team.
How Effective is General Practice Counselling?
Counselling provides a very effective form of person-centred therapy and helps patients overcome personal difficulties. It is a good alternative to Cognitive Behaviour Therapy, and can work as effectively as some medication. Counselling also works extremely well alongside other forms of mental health treatments and therapy.
Brief counselling sessions can help encourage patients to take up physical exercise, improve their diet, reduce smoking and generally to take more care of their wellbeing.
Patient Benefits
A GP referral to a counsellor means that the patient does not need to seek out a counsellor.
General practice counselling provides convenient access to supportive care.
Counselling provides a means of exploring feelings and thoughts and can help clarify emotions, and can help with bereavement counselling.
Counselling provides a welcome alternative to medication, and can enable patients to reduce negative habits.
General Practice Counsellors
Counsellors who primarily work with general practice patients and clients tend to specialise in this area. These professionals will be highly qualified – with additional counselling skills and certificates – and a continual interest in their own self-development and career advancement.
A counsellor's person-centred skills can enable the professional to work in a number of different supportive environments where he/she can provide relationship-based counselling consultations. Working in close contact with GPs, and other medical and therapeutic professionals, can allow a counsellor to expand their skills in the community.
You might also like...
I am a trained integrative counsellor and available for counselling work, especially in the area of bereavement.I am a member of BACP and looking for either paid or volunteer but happy to do some volunteering to give back to the community. I can also offer Christian counselling.
Nancy
- 10-May-21 @ 5:57 PM
I am a qualified Integrated Counsellor and I am a registered member of the NCS. I would like to receive referrals from GP surgeries could you please help me with this process. I live in Walsall, West Midlands area. Kind regards Jackie
Ann
- 4-Apr-19 @ 11:55 AM
Can you explain how patient - counsellor confidentiality works in a GP practice when the counsellor is employed by the practice. Is it acceptable for a counsellor to discuss with a patient's GP details from their counselling sessions? Can a patient have trust in confidentiality within a GP practice setting?
Clarity
- 28-Mar-19 @ 2:10 PM
I am a qualified Person_centred Counselling and a registered member of the BACP. I have started my private practice however, I would like to receive referrals from my gp surgeries could you please help me Starr this process. My area is Southport merseyside and Preston lancashire. Kind regards Janice
Janny
- 27-Feb-18 @ 11:32 AM
I am desperately in need of a counselling job. I am an integrative counsellor and also specialised in bereavement counselling. I am bacp registered. How do I go about getting a counselling job please. Kind regards Kadija Taha
Kadija
- 19-Apr-17 @ 11:46 AM
I am currently a psychotherapist and counsellor with a couple of organisations, as well as having my own practice. I hold a BA honours, Fda and diploma in integrative counselling, along with training to assist my work within this area. In response to the entry's regarding progress in the counselling community, there are plenty of opportunities in this industry, however; there is not quick solution. There are plenty of doctors surgery that have opted out of iapt, this means they can take on independent counsellors, although this is widely on a voluntary basis. A degree is seen by many as the bare minimum to be taken seriously as a therapist. Unfortunately a degree in psychology does not make you a counsellor, so maybe alter your job search to become a psychologist. Hope this helps, and good luck.
Neil
- 9-Sep-16 @ 12:42 PM
I have taken and passed a Diploma in Alcohol, Drug and solvent Abuse Counselling in 2010. I have a degree in Psychology taken at the O/U over 30yrs ago. I have experience of working with offenders and with young offenders and yet i still cannot get a job within addictions counselling, either in prisons or outside of them.No one will even take me to interview stage. I have tried the voluntary approach but this hasnt worked. As this is my desired line of work what more short of a degree course, can i do to get into this line of work, there are plenty of vacancies out there, ive even offered to relocate.. Could it be my age, as i am coming up for 60?I have plenty of parcatical experience mentoring and counselling young people but just cannot move on.I am happy to do this on a voluntary basis and know it could involve 16hrs a week working but im happy to commit to that for as long as i have to in order to move into the type of work i want to do for the rest of my life, or as long as i am able to work.Any ideas?
Sam
- 25-Feb-13 @ 11:55 PM
I'm in my last year of training in therapeutic counselling (diploma) and I was wondering if is any placements in southwest london doctors surgery's available?
mary
- 31-Jan-13 @ 8:49 PM
This website is very helpful. I have studied psychology as an alevel for two years and am now going on to studying it at university. I want to have some sort of experience of counselling, so I was wondering if there are any voluntary opportunities.
kitty
- 1-Aug-12 @ 9:10 AM