What is Lay Counselling?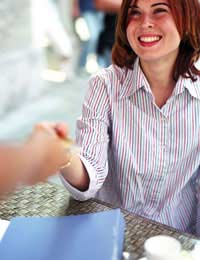 Trained and qualified professional counsellors provide support and guidance to people experiencing emotional problems and difficulties that impact on their life. This type of support is available through structured counselling sessions and programmes, for which an appointment is required. Lay counselling provides additional support that is not as structured or restrictive, and generally runs alongside professional counselling sessions.
A Different Type of Support
A lay counsellor is a trained individual who understands the importance of providing a listening ear, support and guidance and that sometimes this kind of help and understanding cannot be restricted to appointment times only. Whilst a lay counsellor has counselling knowledge this person may not work as a therapist or counsellor, and has acquired counselling skills as additional vocational experience.
What Lay Counsellors Provide
Lay counsellors provide support to individuals experiencing emotional issues and problems. The level of training acquired will provide the lay counsellor with an understanding of how best to support individuals going through particular difficulties. Their training will not, however, equipt them with the professional knowledge to provide the level of counselling guidance required if the individual has medical conditions that complicate their emotional issue.
Situations that present suicidal intention, mania, clinical depression, personality and/or anxiety disorders and schizophrenia must be referred directly to a qualified professional.
Understanding Behaviours
Counselling requires an understanding of emotional issues and problems on many levels. A lay counsellor therefore must be able to demonstrate an understanding of behaviour identification, as well as the best way of providing support in each situation. Being able to confidently prioritise issues as they arise allows the lay counsellor to provide continual support over a period of time.
Understanding that individuals experiencing emotional problems should not be identified by personality type and tendancies will enable the lay counsellor to provide the level of support most needed.
Where to Find a Lay Counsellor
Environments that provide emotional support may have a lay counsellor on hand. Community support groups that provide care and continued understanding – for instance groups working with HIV and AIDS sufferers, as well as other medical conditions – will have access to the additional support lay counselors can provide.
Churches also often rely on lay counsellors, within the parish, because these individuals are able to provide continuity in support and will already have a background understanding that offers a link in contact – in this instance, shared religious views.
Lay Community Counselling
Lay counsellors in the community provide a supportive service that complements the work provided by other trained professionals. This often means that the service offered by a lay counsellor is somewhat limited and/or specific. Nonetheless, this additional support makes a valuable contribution towards helping individuals overcome emotional hardship and issues.
Lay Counsellors and Transitory Communities
Transitory communities, that are established as a result of a natural disaster and link together many different races, languages, values and attitudes, successfully work with lay counsellors because these support workers provide the initial bridge to working through difficulties and problems in order to find solution.
You might also like...
Hi my is litha I'm lay counselor from famsa I'm looking any vacancies my phone 0781935314
Nhlanhla
- 10-Mar-23 @ 7:59 PM
I have a social auxiliary qualification and Hiv and aids counseling certificate and also an N5 educare qualification. Do I qualify for a lay counselor.
Vinoda
- 4-Jan-21 @ 4:09 PM
Good day im Mabuti im invited for an interview with justice department my question is what are the questions that are asked in the interview.
Blues
- 15-Mar-20 @ 9:53 AM
AM DOING AN ASSIGNMENT ON LAY COUNSELING IN EDUCATION I DONT KNOW WHERE TO START. PLEASE PROVIDE BOOKS TO CHECK
lulex
- 2-Mar-20 @ 4:57 PM
can i please get refference books that i can use about lay counseling in for educators
lulex
- 2-Mar-20 @ 4:55 PM
I recently received my lay counsellor certificate I wanna know the companies that hire Lay counsellors
Loid
- 11-Feb-20 @ 8:53 AM
Hi I recently finish my lay counselor course so I want know the place where can find lay counselor job and also want know if isit possible for me to continue from my lay counselor course to being a counsellor.
Kele
- 30-Oct-19 @ 2:30 PM
I am a lay counsellori have onlymatric so I'm asking how should i improve to be professional
Thiza
- 28-Jun-19 @ 9:34 AM
Please help me they promis to call for an interviw for lay councellor what are basick questions
Nonkonzo happy girl
- 25-Jun-19 @ 8:50 AM
I hv an interview on thursday for lay counselor so I want to know possible questions about lay counselor
Emzo
- 18-Jun-19 @ 9:36 PM
Hi ! Want to know how can I enroll myself as a lay counselor . thank you
Sid
- 15-Jun-19 @ 8:33 AM
I am studying community counselling and I would love to be a lay Counsellor.
Sessy
- 7-May-19 @ 8:33 AM
I am happy with lay counseling, it actually changed my life
Mr Tabless
- 7-Mar-19 @ 8:37 PM
Counselling is a very interesting course,it is enjoyable although its no easy it has its complications but it worth it,i like being a lay counsellor.
Fuzeka
- 17-May-18 @ 2:39 PM
hey guys I'm SKinE.L, I recently finished my Lay councelling course through Masithethe Lets Talk(Life Lines)...
I want to know if I can do the course online, how much is the course and the duration. Thank you in advance.
Vuyi
- 19-Nov-17 @ 8:54 PM
Talk on here of a Lay Counselling course but can't find any details about it?
Maggie
- 6-Oct-17 @ 2:29 PM
I am a lay counsellor at the department of health but I need more information so were can I study this course online
MYOCTAR
- 23-May-17 @ 9:27 AM
Uyanda - Your Question:
Lay Counselling is an interesting course. It's enjoyable, it gives you courage and it actually helped me with things such as how to deal with people who are facing problems. I will be dealing with different kinds of people and I really cannot wait to finish my course. I looooooooove it! ;) :)
---
Our Response:
We are glad the course is of benefit to you. Good luck!
TheCounsellorsGuide
- 16-Aug-16 @ 10:37 AM
Lay Counselling is an interesting course. It's enjoyable, it gives you courage and it actually helped me with things such as how to deal with people who are facing problems. I will be dealing with different kinds of people and I really cannot wait to finish my course. I looooooooove it! ;) :)
Uyanda
- 15-Aug-16 @ 11:52 AM
HOW CAN TAKE THIS COURSE SINCE AM IN GHANA
JANLOD
- 3-Jul-16 @ 8:58 AM
I'm a social work by profession I would like to be a lay counselor as my degree has prepared me for individual counseling
how can I take an online course online about lay counselling
Hello, How can I take a course on lay counselling with you online as I live in Iraq?
how can I take a training on lay counselling with you online please?
Can I be able to offer lay counselling services even if I amnot trained as a laycounsellor.
blackrose
- 29-Aug-15 @ 1:31 PM
can i do lay counselling with a certificate in community development?
boi
- 21-Feb-15 @ 9:51 AM
Good Day, Can you please send more information about counseling courses. James
jimaro
- 27-Aug-14 @ 6:38 PM
i m doingan introduction to child psychology, your counselling skills have helped me threw my assignments.
Toefie
- 18-Feb-14 @ 10:16 AM
Thank you very much,this information have helped me to understand my duties since i'm doing a course on counselling.
Yoyo
- 4-Aug-13 @ 6:09 PM