What Qualifications are Needed?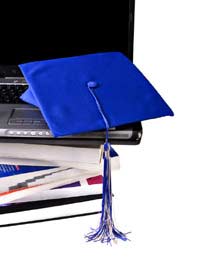 Before selecting a Counselling qualification it is worth considering your personal and vocational strengths, along with previous academic achievements. Many graduates end up following a career that has no reflection on their course of specialisation. Understanding that certain types of profession require a particular qualification will help you define your career choice more easily.
Before applying for a study course always research and carefully check the entry requirements. Some Counselling courses require that you complete a foundation or introductory course of study before embarking on more in-depth training. There may also be an age restriction, depending on the particular course you are interested in. Details of all the current counselling courses available will help you make an informed choice, and will provide you with all the information you will require about the course you are interested in studying.
Tools of the Trade
Qualifications are tools that help you to understand and do the work you have chosen to do, in the most effective and productive way. Counselling is made up of many specialist fields, so it is important that you select the correct course of study, that leads to the required qualification, in the field you would like to specialise in.
In order to select the ideal counselling course for you, take your time researching any relevant courses, career and occupational information and options available. Taking time to research, before embarking on a course of study, with ensure you select the ideal specialisation for your requirements.
At present in the UK however, no minimum qualifications are required to practise as a Counsellor.
Degree or Diploma?
If you prefer to learn, with an emphasis on theoretical knowledge, and enjoy research and basic scientific methods, a degree would be the ideal choice for you. A degree will prepare you for a particular professional occupation, like that of a psychologist.
If your focus is on a more practical level, a diploma could be the best choice for you. Diplomas offer training for specific careers. If you are simply looking to improve your skills and knowledge, in a specific field or area of study, a certificate, or short learning course, is also worth considering.
If you already have a degree you may consider a Masters qualification. Some counselling courses however, may require that you complete an Introductory course in the relevant subject.
Accreditation
Many employers, and clients, require that a counsellor is accredited. A professional qualification, and accreditation, that is recognised by a professional body like the British Association for Counselling and Psychotherapy (BACP) will stand you in good stead when researching career openings.
In-depth training courses will reward you with an accreditation certificate. This type of course usually requires at least one full year of study, or two to three years of part-time study. A period of supervised placement is also a requirement.
Further Qualifications
Once you have gained a Counselling accreditation you may decide that you would like to continue learning and developing your skills. Many specialist areas of counselling offer training to those professionals who already work in a relevant field. You can however, add a specialist qualification to training you have already gained on a substantial training course.
You might also like...
Hello, I am a qualified teacher and have worked in the education sector for twelve years. My experiences ranges from working with mainstream, SEND and SEMH pupils. I have always been drawn to the children who present with Social Emotional and Mental Health needs and I am currently working in an SEMH school. With my experience and qualification, which is the best route to take towards becoming a counsellor?
Sam
- 15-Dec-20 @ 3:34 PM
Hi , I'm a retired Deputy Head of alternative education provision and special education consultant. Have experience of counseling mentoring informally with young people . Have taught in all key stages of education for over 30 years . I am interested in transferring my skills into counseling sector . What qualification should I take so I can set up as a counselor / life coach for young people please . Best wishes, Cyndy Humphreys
Cyndy
- 17-Oct-20 @ 9:11 PM
Hi, I've been teaching in primary schools for over 24 years and have a B Ed Hons. I was wondering what would I need to do to become a child counselor with or without a part time job? Thanks
Becky
- 17-May-20 @ 6:39 PM
I have a BA (HONS)in Primary Education and 20 years experience as a primary teacher. What would I need to study to be a qualified children counsellor?
Shaeney
- 14-Mar-20 @ 3:03 PM
Morning, I have completed the diploma in counselling and psychotherapy am a member of the BACP! I have owned and taught at my own business for 12 years which I also gained a foundation degree in early years. I would like to start up as a training school to teach level 2 and 3 in counselling skills. What are the qualifications for this and also I want to offer my course as being accredited by a recognised company what are the requirements for this. Thanks
Donna
- 5-Feb-20 @ 12:21 PM
I did Diploma in psychological Counselling and also I'm a Motivational Speaker. I completed my counsellingfeild practice. Now a days I'm seeking a this field related job opportunity. What kind of job vacancies are available and please let me soon. Thank you
Mohamed
- 4-Dec-19 @ 6:12 PM
I have a teaching degree BA(ed) and have been in teaching for 30 years. I have been in pastoral care as a house parent in two boarding schools for 18 years. I would like to change career path and become a school counsellor to use my experience helping students in this area. What would be my training needs to complete this change of career. Thank you Jamie
Duffs
- 15-Nov-19 @ 2:58 PM
I've got level 2 |3 certificate in counselling skills what else do I needs to get into counselling . Eleanor Ryan
Ellie
- 17-Sep-19 @ 5:59 PM
Hello - I have been a high school teacher for 13 years with a first degree in history and a Pgce, I have recently completed a level 2 certificate in an introduction to counselling skills - whatcourse/qualification would be suitable for me? Many thanks
Tuesday
- 29-Aug-19 @ 2:07 PM
Hi I have a diploma in health and social care, level 3 and would like to know if this would enable me to enter a counciling diploma at a higher level. If you could provide any feed back, regards courses etc it would be very much appreciated Thank you
Hi, I've been teaching for 18 years and a Headteacher for 7 of those. What to trading as a councillor. I have a BA in primary education and the national professional qualification for headship. I would like to train in cognitive behavioural therapy, and be a registered counsellor. What route/ trading do you suggest. I would like the quickest route, doing 100 hours on job training and working to support myself too.thank you.
Annie
- 12-Jun-19 @ 6:43 PM
Hi I have level 1 & 2 counselling and level 1 in self harm counselling and a degree in health. What qualifications do I need to become a young persons counsellor please. I also have 20 years experience in working with children in care. Thanks
JG's
- 11-Jun-19 @ 2:14 AM
Hello , Am Dr. Naveena from India who is dealing with care ofDevelopmental and Behavioural Child health . I am looking for counselling skills specific for special needschildren and family . Will it be possible for you to provide me any online accredited courses that I can apply to upgrade the counselling skills ? I am quite confused in choosing the right course for my situation. Looking forward to get some valuable feedback .
Veena
- 25-Mar-19 @ 2:12 PM
Hi, I've been a primary school teacher for 21 years and am in my third year of study for a level 4 diploma in counselling and psychotherapy, which includes 100 supervised placement hours. What would I need to do next, to be able to work as a school counsellor? Thank you.
Hi, I am wondering what organisations offer clinical supervised placements? Thanks
Katie
- 3-Jan-19 @ 1:43 PM
Hi, I was wondering if I would be able to do a councilling course with Health and Social Care diploma level 3 and extended diploma?
Lucy
- 20-Sep-18 @ 8:53 PM
Hi I am 46 and have been a Primary school teacher for 15 years and a Secondary History teacher for 4 years. I am considering becoming a school counselor and would like to know what I would need to do. I haVe a Bachelors degree in History and a PGCE. Thank you in advance
Dom
- 13-Sep-18 @ 3:37 AM
Hi I have a degree in psychology and have been working in primary schools as a teaching assistant and as a practitioner in Nurseries. I have decided to go in to counselling but was wondering if a one year level 3/4 course would be enough and if not what are the best steps for me. Thank you.
Bb
- 14-Aug-18 @ 10:38 PM
Hi, I have recently finished a level 4 diploma in counselling. I received a distinction on the course, and a part of the qualifications was a 12 week placement working with teenagers with a variety of problems. I have been looking at doing voluntary work to try and gain further experience, but it's been proving tricky! How many hours of voluntary counselling do I need to become recognized as a child/young adult counsellor? How do I then proceed in gaining accreditation from BACP, or any other accredited counselling body? Kind Regards.
Kaz
- 14-Jun-18 @ 12:00 AM
I have a BA Hons in applied social sciencesand have been working in mental health as a manager for over 14 years I would like to start a career in counselling, what study path would be the best?
Lyndy
- 24-May-18 @ 9:08 AM
Dave - Your Question:
I have just completed my level 3 diploma in carpentry and joinery and want to further my studies wot. is the next best choice for me h n c ? Or do I need to do any other courses ?
---
Our Response:
You have quite a high level of skill at NVQ level three. Much depends upon what area you wish to specialise in, if any and try to follow that route. The gov.uk link
here
gives a little more information with regards to career path progression. A HNC is a good qualification to have if you wish to move into construction proper.
TheCounsellorsGuide
- 19-Apr-18 @ 11:07 AM
I have just completed my level 3 diploma in carpentry and joinery and want to further my studies wot. is the next best choice for me h n c ? Or do I need to do any other courses ?
Dave
- 18-Apr-18 @ 9:28 AM
I have a friend, they are currently working as a therapist\advisor, for a national charity, they have worked in their current job for 6 years giving one to one support, altogether they have 20 years experience in a social care, local authority and mental health setting, they have a degree in psychology and a post graduate in applied systemic theory and is trusted and respected by their peers. They are however now looking to gain a full counselling qualification on a BACP registered course at a London establishment. My question is does anyone have advice on what course is best for someone that has 20 years experience working in a social care, local authority and mental health setting. All the best Richard
Casbah
- 2-Apr-18 @ 2:48 PM
@Tessa - unless you can do a post-graduate course transfer, you'd have to begin again at the beginning. The thing about counselling is that anyone can train to a minimum level and set up as a 'counseller' or 'therapist'. But if you want to be taken seriously then you have to get the best training and best experience possible and that's at degree level and beyond. Plus, it's a massively overpopulated field, so applications for the good jobs are competitive. I've been there, done that and got the tee-shirt!
StellB
- 15-Mar-18 @ 2:09 PM
@Kim - the natural progession is to apply to access year two of the HND in Counselling. Backed up with some voluntary work, this should get you back into the profession.
GeorgiaO
- 15-Mar-18 @ 10:21 AM
Hey there. I have a HNC in counselling that was completed in 2014 and I'm now looking at getting back into my studies. I have been working in retail for the past few years and it's now time for me to look at my options as a counsellor again. I enjoyed the CBT side of counselling but I'm open to options on where and what I can do next. I also like the idea of psychology. What direction do I go? Or can you suggest.
Kim
- 14-Mar-18 @ 12:20 PM
I am looking into doing a counselling diploma, but have no qualifications in this area. I have a BSc and MSc in a completely unrelated subject and would like to avoid doing another degree. I would have to take the diploma part time as I have a child. At what level would I be qualified enough to get a job?
Tessa
- 13-Mar-18 @ 9:35 PM
I am in my last year of university studying business management degree, however I have kind of changed my mind of what I want to do and was thinking to do conselling as a masters degree. Would still be able to do it or would I have to have some qualification in conselling before
Sharon
- 6-Feb-18 @ 9:37 PM
Hi, I am currently a Children's nurse working in a busy ED department. Who is looking into adding a counselling qualification to my CPD. I decided this after the loss of my own child (almost 2 years post loss). I want to be able to offer support to Children and families through and after loss. Is there any bereavement specific counselling courses I can do. Or any advice you can give me. Kind regards
@Flo - you sound as though you have the right qualifications to set you on a further course of study. Specialising is good. But it's a long, hard, comeptitive slog and you would have to do further study, maybe even a second degree. What about an MA in counselling? They do one in London Goldsmiths.Best of luck.
RaV
- 5-Dec-17 @ 10:50 AM