Attitudes and Qualities of a Counsellor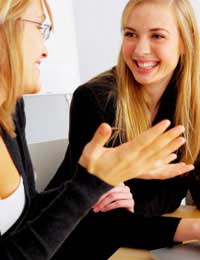 To be considered a capable counsellor there are a number of qualities you must possess, along with a few attitudes you should develop. It is a counsellor's responsibility to make the client feel at ease with the counselling process. Building rapport and creating a counselling relationship that uses trust as a solid foundation, is a key requirement and counsellors must also be able to demonstrate genuine, caring attributes.
The Bare Essentials
A counsellor must be able to show a positive, unconditional regard for the wellbeing of a client, if a successfully progressive counselling relationship is to be formed. It is the basis from which a client can explore their thoughts, feelings and experiences, and develop an understanding and acceptance of their emotions. Without this unconditional support a client will feel inhibited and unable to express their true personality, difficulties and emotions.
Whilst maintaining a professional focus a counsellor must be able to show a genuine openness, within the counselling relationship. A client must feel comfortable, safe and confident that confidentiality will be maintained at all times, and also that the counsellor is committed to helping, encouraging and supporting.
Empathic understanding, and the ability to see things from the client's perspective is also important, as is the counsellor's ability to demonstrate an investment of their time and full attention.
How to Show Warmth and Understanding
Showing empathy and genuineness encourages a client to relax and trust. It also encourages client self-disclosure. Maintaining warmth and understanding, without being judgmental, provides the client with a comfortable foundation within the counselling relationship. A counsellor should also show their own personality and ensure there is a friendly atmosphere and attitude, in order for the counselling relationship to grow.
Conveying warmth through body language – using posture, maintaining eye contact and personal space – encourages a client to trust. Counsellors should also be aware of the way they speak – the tone of voice, speed of speech and delivery – as the words used should be in agreement with the way their body language provides reassurance.
Warmth should be handled with care however, as a client who exhibits feelings of unease, distance and mistrust may feel initially threatened by sympathetic behaviour.
Demonstrating Positive Regard
Valuing and respecting a client is of vital importance in a counselling relationship. Demonstrating a positive acceptance of the client is the key to encouraging interaction and disclosure. Unconditional positive regard creates an opportunity to explore change, and provides a client with acceptance and genuine caring.
A counsellor must not judge in any way. This may be difficult in some situations, but is the basis of a counselling relationship built on trust. Accepting a client shows the individual that you value them and are there to support them through the counselling process, regardless of their weaknesses, negativity or unfavourable qualities.
Important Values of Counselling
At all times counsellors must show a commitment to:
Human Rights and dignity.
Supporting and alleviating personal distress.
Appreciating the differences in culture and human experience, and remaining non-judgmental.
Providing adequate counselling services whilst ensuring the integrity of the client/counsellor relationship.
Maintaining client confidentiality and ethical principles.
You might also like...
I have a life experience and feel I could do a fabulous job at councilling .I want to know we're to start.
Mazz
- 27-Jul-21 @ 5:51 AM
i am a counsellor, with a pg diploma in psychological counselling,i like to listen to any body's worries, difficulties and issues that bother them ,because i have seenpersonally , most of the times people don't find anyone to listen to theirwoes,just a listening ear will make all that difference in their lives...making a small difference in anyone's life is all that i think of always..
vijee
- 5-Aug-20 @ 3:08 PM
Very very useful and knowledgeable, I counsel youth in my church and always love to read your article. Keep on with the good work.
Arabs
- 2-Sep-19 @ 6:30 PM
Has anyone completed the ABC Level 4 Diploma in Therapeutic Counselling?What was the course content like and how demanding was the homework (how many hours).Any advice would be really helpful.
Guidance and counseling is very important especially to high school students therefore it is up to us to spread the awareness to implement it in every school in order to help our students.
Chunga
- 10-Jul-19 @ 6:21 PM
Hi I am a student doing my last year in psychology can you help me to get a job in RSA
Kuti
- 4-Apr-19 @ 9:00 PM
YOUR ARTICLES VERY USEFULL ON OUR KONOWLEDGE AND EVERY KNOLEDGE YOU SHARE TO US THANK YOU ASRIN
ASRIN
- 17-May-18 @ 7:43 AM
Thank you so much, you helped me write my assignment. Keep it up!!! I'm a 4th year Social work student in S.D
iam always enjoying your articles, this is what makes me to develop interest in guidance and counselling. THANKS,
danhajia
- 28-Oct-16 @ 11:23 AM
I still remains no one but Ja'afar Abdullateef. I extended my multiple appreciated to every counsellor and i also recomending them all. However, i just need your advice about what should i do to becomes a professional counselling And also to be comes eloquently in speaking english? By your client JA'AFAR ABDULLATEEF. Contact: 07036963236.
Young messy
- 20-Feb-16 @ 6:35 PM
I want some sggestions about my carrier. Now I m 33yrs old I hv completed my master degree but I m still jobless. Please give me some guideline how to go about.
Marak
- 25-Sep-15 @ 6:49 AM
I am a 23yr old kenyan having completed diploma in social work and community development. Need an employment in any part of East Africa.thanks
Atom
- 11-Jul-15 @ 10:52 AM
I am an academic staff in a university in Nigeria, I would love to get more training in Information, Advice and Guidance for Open Distance Learning Students. I would be glad if you can recommend any for me. Thank You.
Obby
- 26-Mar-15 @ 1:40 PM
Hello am a university graduate, I love guidance and counselling. I wouldn't mind to volunteer any where called if called upon. Many thanks.
beckie
- 12-Mar-15 @ 1:11 PM
I have done home study courses in counselling resulting in a diploma in advanced counselling skills through BSY, I need a placement in or around Gainsborough, lincolnshire
Clez39
- 12-Nov-13 @ 6:43 PM
Hi. I am a student counsellor just about to start the second year of level 4 diploma and need a placement as soon as possible in Kent or Medway. Can you help me with finding one please? Many thanks.
shazza
- 13-Aug-13 @ 3:48 PM
Hello, I am studying the Level 4 diploma in therapeutic counselling, I am on the second and final year. I already have one placement but I need more hours as I need to do 100 hour placement. I live in Gravesend Kent, and don't drive. Can you help me?
Steph
- 19-Jul-13 @ 1:04 PM
I AM IN ACADEMIC COUNSELING IN GHANA. NEED FURTHER PROFESSIONAL QUALIFICATION AND UPGRADING. NEED AN MBA AS MY QUALIFICATION IS B.Ed.
steveoo
- 21-Sep-12 @ 10:24 PM
I am interested in working as a counsellor/hypnotherapist/psychotherapist.I have a diploma[NACHP] obtained from the proteus school of hypnotherapy in west hampstead in 1995.I am a little bit rusty and would like to attend either a refresher course or work and learn as a volunteer.I would be delighted if you could point me in the right direction.I live in Walthamstow in east london.thanks.
Stef
- 27-Jun-12 @ 2:49 PM
hello, i am counselor at educational private academy( for MBA ) and i want to increase number of enrollment in my organization for that what can i do please suggest me the best way's of counseling....
pari
- 5-Jun-12 @ 6:14 AM