Counselling Course Assessments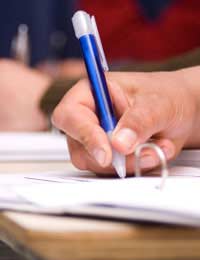 The qualification a student receives at the end of a counselling course very much depends on the assessment of their combined study. This form of assessment takes into consideration all the elements of learning – written coursework, supervised placement, small group work etc. An internal assessment, which includes journal work and role-play practical skills, is often combined with external assessment, that is made up of a mandatory test or exam of some description.
Basic Requirements
Basic assessment is required to acknowledge the standard of counselling skills a student has acquired through the course, and whether this is sufficient to merit a qualification. This level of assessment represents a student's capabilities, aptitude, attitudes and counselling ability.
Tutor feedback also forms part of the assessment, and students will also be expected to self-review their progress throughout the course. Students are generally required to take full responsibility for their own learning however, and must show evidence of this in their coursework and whilst on placements.
A large part of the assessment of counselling skills is done through the observation of the individual student. This will be done by close inspection of personal reflection and experience, written work, an exam and observation.
Back to School
Classroom focused learning allows students to combine written assessment with supervised placements, and the courses are delivered by professional tutors, who are often also practitioners. Learning in this manner provides the counselling student with a good range of experiences, which they can use reflectively as part of the skills they can demonstrate throughout the assessment process.
Experiential Learning
A Graduate Certificate in Counselling Skills may require no formal examination at the end of the course. This is because the student is continually assessed throughout their study. Experiential learning – where the student learns by reflection on doing – is often encouraged in fields of learning that explore personal experience. Experiential learning requires no tutor, but encourages the student to make progress through direct experience, observation and the use of analytical skills. This type of assessment combines practice with theory, and consists of written coursework, projects and presentations.
Distance Learning
Distance Learning students are issued with course materials, in the form of a study guide and course manual, and are expected to complete regular written assignments. These written assessments are then submitted to their tutor for marking. The tutor is on hand to provide online or postal support throughout the course.
Guidance Counsellor
In order to prepare for assessments counselling students are allocated professional assistance, and may also access academic information to help them with their written assignments. This guidance is especially useful for students who may not have studied formally for some years, and will help them prepare for an exam.
Valuation
Assessment by tutors, peers and self should be continuous throughout a Counselling Skills course. Without this level of assessment a student's counselling ability cannot be competently assessed. Counselling courses are accredited, assessed and validated by an Assessment and Qualifications board. This evaluation is an important process that establishes a student's capability and ability to work within the field of counselling. Without professional assessment and validation a counselling student will not be able to practice their skills professionally.
You might also like...