An Introduction to Counselling Skills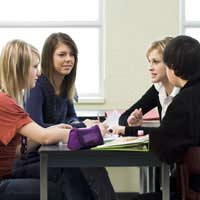 Counselling is a specialist vocation that requires professionals to train in a number of different ways. Modules and coursework are complemented by supervised learning and placements, and also include assessments. To gain an accredited Counselling qualification you must have a strong interest in the field and be open to furthering your understanding of self-awareness and self-development.
Counselling is an interesting subject matter that can be used to create, and foster, positive attitudes in many vocations and situations. It also provides a genuine understanding of the needs of others and offers an insight into your own personal issues.
The Bare Essentials
Counselling skills are taught on many different levels. To gain a broad background knowledge of the subject it is essential that students consider an Introductory course. This type of course is open to students of all backgrounds, and does not require that you have experience of working in the therapeutic field. A Certificate in Interpersonal Skills, which is a Level 1 course, provides students with all the sufficient material required to progress onto the next stage of their counselling career.
An introductory level of counselling explores counselling practice and aims to develop qualities of empathy, non-judgmental understanding and unconditional positive interaction. Active listening, reflection, restating and summarising are some of the additional skills students will be able to develop further.
What is Covered?
An Introduction to Counselling course may cover subjects that include:
What is Counselling?
The essential qualities required for a helping interview.
Ethical use of interpersonal skills.
How to apply challenging skills.
The identification, and use, of skills in an applied context.
Homework
Students may also take part in group discussions, role-play and small group work. Written coursework, outside of the classroom, are also required, so students need to be aware of the extra time required to complete all parts of their study. Assessments are usually carried out by observation of the student's practical skills. Maintaining a candidate diary – where students record personal experiences – may also be a consideration.
Students are encouraged to use reflection as a basis for their work, and will be expected to share their work with others on the course. Feedback from tutors, and other students, will provide a useful method of additional learning and self-development, and all students are expected to help in the learning process of others.
Building a Solid Foundation
An Introduction to Counselling provides a well-informed foundation from which students can build a successful, and rewarding, counselling career. Counselling theories, themes and contexts are explored and students are able to develop skills they can then transfer to the workplace or personal relationships. Prospective students who are already working in a therapeutic profession, in health care, education, pastoral care or even human resources, will also benefit from a good grounding in counselling.
On completing an Introductory Counselling course, and developing their counselling knowledge further through a subsequent degree or diploma, many students will decide to work in a counselling profession. However, most of the students will simply use the knowledge gained from the course as a positive means of progression through their existing careers.
You might also like...
I would like to do the counselor skills course At present I run a sobriety group with 22members in it I have ADHD and Ashburgers I want to be certified in this So I can go further
Andy
- 3-Nov-23 @ 9:17 PM
I have had counselling and I am currently exploring CBT. I am a teacher and would like to change career. Counselling really interests me in that personal belief systems can be set up in our minds by past experiences counselling can help with changing thoughts around these. I am also interested in meditation too. I want to know how I can find out more about counselling and whether it would be a good career to go into. Then how to do that while being a teacher and still needing to bring money in for my family.
How do I get started for the counselling course am a police officer for 14 years , and want to move on to something different.
Tino
- 23-Jul-19 @ 2:44 PM
I am registred nurse want to start career in couselling. So what eould be my starting step?
Pheba
- 9-Feb-18 @ 3:30 PM
I have worked in HR for the last 7 years and I am now looking to change careers.I have had counselling and CBT in the past and I have found both (in particular the latter) very helpful to me.I am curious as to how I could become a CBT therapist; what options are available and how I can leverage my skills as an HR professional in this industry. Many thanks, Tom
I'm looking to do an Introduction to counselling course, within Oxfordshire. I work with Children and Parents could you recomend a short course for me Thank you .
Roz
- 22-Feb-13 @ 2:59 PM
Having gone through counselling, I have huge admiration for those who listen to the problems of others all day and help them decide on a course of action. It sounds easy but I know it's not. It helped me a lot, and I think developing some of the listening skills - and it is a skill - is something we could all use, as few of us really listen properly to others. That's really what makes counsellors so attractive, they do truly listen and after a session you feel you've been heard.
jane
- 5-Jul-12 @ 5:54 AM