The Cost of Training to be a Counsellor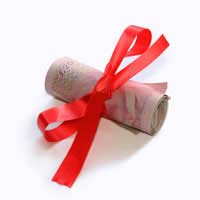 In the UK accreditation provides direct access to registration as an independent counsellor. Many employers require that a counselling student gains an accreditation before employing the individual. The cost of doing so, however, can become very expensive so it is worth researching courses and costs before thinking ahead.
Hundreds and Thousands
Besides the hundreds of hours of coursework and counselling practice a student has to do, in order to gain an accredited counselling qualification, the cost of course fees may be around £2000 for each of two years. Additional, complementary, counselling skills will top up the cost of learning even further. Add on course reference materials and other sundry expenses and a student will be requiring a hefty loan.
Grants are not particularly easy to come by as the Local Education Authority is generally only prepared to fund Degree level courses. Students could consider asking an employer or local charity to provide assistance with the course fees. The Directory of Charities lists all national charities and a copy can be found in local libraries.
Timely Costing's
The financial cost of training to be a counsellor is not the only expense. A commitment to studying is also a vital consideration. A Counselling Diploma course will require weekly attendance of around 6-7 hours, and a considerable amount of extra time spent covering coursework assignments and reading the additional relevant course materials. Practice supervision, outside of the normal study hours, may also be required.
A two-year Diploma in Counselling may also provide the opportunity to gain experience and knowledge on a weekend residential course, which will bump up the course fees by around another £100 or so.
Potential Funding Sources
Students unable to comfortably fund all of their counselling training may consider an alternative way to pay the course fees. Access, or hardship, loans are available from a variety of training organisations. Sponsorships and scholarships can be awarded by industrial organisations or the Government, and bursaries are also available from local councils or selected colleges.
Your local high street bank also offers a Career Development Loan which can be used to cover the cost of study. If you are a parent, or are disabled, you may also be able to claim additional income support.
Online Courses
Distance Learning Counselling courses not only provide a convenient method of studying, around a student's other commitments, but also offer a more cost-effective way of learning. Online course fees offer a sizeable reduction in cost, in comparison to a standard college course. One-day Introductory courses, which supplement other Counselling Skills courses, are also an affordable learning option.
Payment Plans – where the cost of the Counselling Skills Course is paid for over a pre-agreed period of time – provides a sensible way of managing your money whilst studying, and can be budgeted for with ease.
Hidden Extras
Some training specialists may require students to pay an annual membership fee, plus the cost of course application and approval procedure. It is therefore recommended that all potential students thoroughly research all Diploma and Degree courses, and course providers, before committing to a particular course of study.
You might also like...
Hi I am a single mum working part time I would love to do a Councilling course but have no funds and no idea where to start or look. I would be greatful if you could point me in the right direction. Thanks Layla
I am a retired Director of learning and development. I have completed level 1 and level 2 of counselling programmes and I've loved every minute. I want to carry on but need some financial support/funding. Can someone point me in the right direction.. if it's possible ? Julia
Juejue
- 19-Nov-22 @ 5:12 PM
I want to so counselling training already done level.3 want to go on to level 4 however I am.on benefits.Are there any loans or bursaries available?Thanks x
Claire
- 30-Oct-22 @ 11:37 PM
I would like to achrive my goal in becoming a qualified Counsellor but don't have the funds to do so, being on benefits I am restricted. Can you advise me on where I could possible get free funding to help me . Regards Dawn Hadlow Goodwin
Dawny
- 10-Sep-20 @ 11:20 AM
Hi, I was wandering if you could advise me where I should start. I have been a community support worker with the mental health team for over 10 years. I have dyslexia and work part time as I have a small child. Any advise would be appreciated. Many thanks Kirsty
Kirsty
- 28-Feb-18 @ 8:46 PM
Can anyone give me information regarding any online counselling diploma courses that lead to , after completion , my being allowed towork as a counsellor?I already have my Cosca counselling skills course. However, in order to eventually practice as a counsellor, I need a Diploma. So, can anyone help me find an online Diploma course? Ifit's possible. Thank you .
Tartanlassie
- 25-Oct-17 @ 11:33 PM
The costs in this article vastly understate fees for high-quality academic and skills based MA degrees, for instance.I am paying £7,400 per year, for two years on my MA.And yes, it's worth every single penny!
Kells
- 21-Mar-17 @ 12:27 AM
Hello, I have been doing a number of courses and most of them are free. I started a counselling course this year and is willing to go all the way sadly you then have to pay for the last part of the course which costs £6,000 pounds as the class of 12 have just been told. We need it for 12 people. Thank you, Linda Smart.
tulipina
- 2-Jun-16 @ 7:08 PM
MsJG - Your Question:
Hi there , I know these posts are old but I was wondering if you were able to get some financial assistance Amanda? Many thanks.just about to start a course.
---
Our Response:
Please see BACP link
here
. I hope this helps.
TheCounsellorsGuide
- 24-Sep-15 @ 2:47 PM
Hi there , I know these posts are old but I was wondering if you were able to get some financial assistance Amanda? Many thanks..just about to start a course .
MsJG
- 23-Sep-15 @ 9:50 PM
Hi, I have been working in social service sector for 3 years. I did hands on conducting individual group counselling and bio psychosocial unfortunately, i wasnt given any opportunity to go for my courses. Been browsing through all website but neither they can help me to pursue my career. (SG)
I'm just completing level 3 in person centred counselling skills. We've got a great tutor and a good college, but no funding :(I've struggled to pay for the L3 on a very low income (almost broke us at times). but counselling is an absolute passion, and part of who I am as a person in my mid 40's. More sponsorships or funding (grants) need to be sought to help students who are dedicated, to keep going.My assignments have always received top marks and I constantly help other students - whom on paper - are far more educated than myself (in theory). I would love to move onto level 4, but ideally need sponsorship, (or go grey wondering if i'll risk the roof over our head). I contacted the .Gov.org over external funding but the college refused students access to it, so I wrote to several charities, no joy there either... Not sure what to do now... Amanda. (Lancashire).
mrsridders
- 9-May-14 @ 3:49 PM