The Importance of Self-Counselling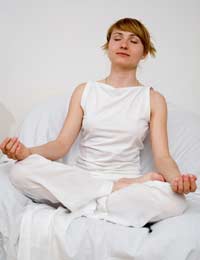 Self-counselling is the process of examining one's own behaviour, using psychoanalytical methods of free-thinking and free association. It may be considered as a poor substitution for a counselling relationship with a counsellor, but self-counselling also provides many useful benefits. Self-counselling can help you take more effective control of everyday situations, and enable you to make continued progress.
How it Works
Self-counselling takes you on a journey of self-discovery. You work at your own pace and in the direction you most feel comfortable with. Some problems may be too deep-seated for self-counselling however, and these may require additional forms of therapy. On the whole though, self-counselling is an effective method of exploring how your mind works and how you behave in situations.
Tools of the Trade
There are a number of useful tools you can use in order to get the most benefit from self-counselling. These include:
Meditation – using mantra, visualisation, visual aids or similar.
Relaxation – using deep relaxation techniques and working with the breath.
Free-association – relating anything that comes to mind, regardless of importance.
Dream analysis – analysing the images and ideas you explore in your sleep.
Autogenic Training – relaxation technique that focuses on daily practice, using visualisation to induce a state of deep relaxation.
Whilst this form of therapy may save you money, it is difficult to implement. Self-counselling can be emotionally-draining, time-consuming and frustrating. However, it can also prove to be a very rewarding experience.
Is it For You?
Understanding the importance of self-counselling will help you identify your reasons for undergoing this type of therapeutic treatment. It is a way of positively accessing personal information that provides you with answers, solutions and opportunities to create changes in your behaviour, thoughts and feelings. Rather like applying a maintenance check, self-counselling can keep you confidently ticking over for a lengthy period of time.
Progress may be slow, so it makes sense to be aware of that at the start of the self-counselling journey. Your progress through self-counselling will also be unpredictable, and you may become frustrated by the apparent lack of insight and information you uncover. Patience is the key to working through these slight setbacks, and will reward you in the long-term.
What to Expect
Every individual has the ability to accept responsibility for his/her own behaviour and the consequences of their actions. Self-evaluation provides valuable insight, development, awareness and understanding of an individual's therapeutic characteristics. Self-counselling allows you to do this by enabling you to go beyond the barriers of normal counselling and to take control and full responsibility for your actions, thoughts and behaviour. You have complete control of the process however, so need to remain motivated at all times.
The emotional aftermath can be unpredictable. Whether you discover life goals or new challenges, self-counselling will help you achieve clarity of thought, acceptance, motivation, determination and a series of feelings, thoughts and actions you perhaps didn't think possible. Although self-counselling works well as a method of self-analysis, it may require to be combined with further therapeutic forms of counselling if the process becomes too challenging or draining.
You might also like...
Am grateful to be here am looking for your guidance on self counseling and I will very grateful. Thanks yours Bacurana
Sinabalungu
- 30-Dec-20 @ 9:21 AM
I am depress my self because,I had loved someone I really loved her, bugt but some family issue we abandon our village and distances too much as. And iam not propose her. I got new home but before 4 years now I not forget her and I also forget my dream I lost my every things that's my problem. I don`t focus any simple work . I depress day by day. what I do I don`t understand
Mahend
- 30-Mar-20 @ 4:52 AM
smsxjxjxncn ckcjdkhrkejbewmnd bWJSBJQEBDWQBHE2YU4FQHWVN
QHAQHU
- 23-Feb-20 @ 7:48 AM
I am feeling alone and I am alcohol list and too much thinking And depressed.
Chotu
- 12-Feb-20 @ 6:16 PM
I am a counsellor and trainer.I really enjoy my work.I would like to have free online yoga lessons.I imagine it is a good form of relaxation especially if and when i experience burnout.Thank you.
Nyce
- 24-Sep-14 @ 3:52 PM
I am going to be a counsellor. It sounds exciting and thrilling to talk to people nad help them in every way I can. I have always wanted to do that. I am doing massages too and yoga things.
Aimes
- 29-May-12 @ 2:17 AM