Active Listening Skills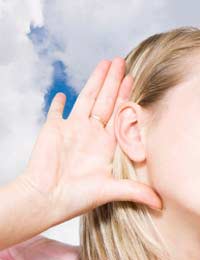 Active listening and responding appropriately are two of the key skills a counsellor or therapist must apply during one-to-one counselling sessions with a client. Being able to communicate effectively is an important requirement, in any type of therapeutic counselling work. Understanding the importance of these skills, and being able to apply them accordingly, is a valuable asset for a career in counselling.
Quality and Quantity
To help clients to improve the quality of their lives, by working through their problems and issues and making positive changes, a counsellor must demonstrate an interest in the client's life – their wellbeing, problems and difficulties. It is the counsellor's responsibility to give their client their full, undivided, attention throughout the duration of the one-to-one counselling session.
The Importance of Listening
Listening makes the person who is talking feel worthy, appreciated and respected. When we give someone all of our attention the speaker responds positively by interacting on a deeper level, perhaps by disclosing personal information or by becoming more relaxed. When a counsellor pays particular attention to what the client is saying they are encouraging the client to continue talking, as well as ensuring communication remains open and positive.
In the same way as there are different ways of listening, there is also more than one way of speaking that demonstrates a person is really listening to what is being said.
Active Participation
Active listening requires more than just listening to what a client says. It involves taking an interest in the other person, making sure they are comfortable about disclosing personal information and providing support and understanding. It also requires that a counsellor also takes into account the body language that is being displayed, and also the tone, speed and pitch of voice.
Counsellors must also demonstrate active listening by employing the various techniques throughout their counselling relationship with the client. These include:
Facing the client. Sitting straight or leaning forwards to show attentiveness is also useful.
Maintaining eye contact shows the speaker you are interested in them and what they have to say.
Responding appropriately, by um-hmming, eyebrow raising and supplying other more direct responses, prompts the client to continue talking.
Focusing solely on what the client is saying will enable the counsellor to follow the logical flow of the conversation with ease.
Only ask questions for clarification. The less a counsellor speaks the more a client should.
Reflective Listening
This is the process of restating what has just been said, so that the client understands that you have clearly heard what they have disclosed. It is confirmation that a counsellor validates the client, by acknowledging what is being said, and by providing further opportunity to talk.
Paraphrasing – when a counsellor offers a concise statement of the client's message – is another useful tool.
Blocks to Listening
Whilst actively listening, it is important that a counsellor stops any other kind of distraction. This includes the natural dialogue that everyone has running through their mind constantly. Forming judgments, regarding what is being said, is also a block to actively listening, as is the urge to provide information at, what may be, an inappropriate pause in the conversation.
The counsellor must be aware of their listening habits at all times, and must continue to check they are supporting the client in the most appropriate way.
Read more about
the various counselling skills
that will make you a more 'rounded' counsellor.
You might also like...
I am doing level 2 counseling skills but I have bpd would this affect my becoming a therapist?
Leanne
- 7-May-22 @ 10:40 PM
what are some examples of inauthentic listening?
ritsy
- 2-May-20 @ 1:47 PM
How do I start a counseling session with a student who is aggressive. The child is not aware of his behavior and I have to counsel him and make him aware of it.
maree
- 7-Apr-19 @ 12:58 AM
woow...its nice ...am a counselor in the making
brio
- 13-Jul-17 @ 8:12 AM
How can I cite the above work in my education
Njonjo
- 5-Dec-16 @ 11:30 AM
Counseling is paying attention to the clients.
The Explorer
- 4-Oct-16 @ 6:41 AM
How may I cite the above article in a scholarly work?I meed to give credit.
Raymond
- 3-Sep-16 @ 2:31 AM
this article is really effective.
tazel
- 27-Mar-16 @ 2:33 PM
can you suggest some ways in which we might block the way that we listen and learn
christie
- 25-Jan-16 @ 1:06 PM
I need some one to ask this question:important of listening andcounselling
amiissa
- 14-Dec-15 @ 2:25 PM
Am a student of ABU zaria Dep. Educational psychology and counselling Going for my practicum. Pls hw do i start because am a shy type of person
I am student of international college of cultural sudies how can i,a good listener and counsellor Plz guve some adcise????
pari
- 26-Dec-14 @ 6:07 AM
I am currently training in basic counselling and i am looking for more information on non directive approach
"The client's mamur requires attunment" what does it mean?
emma johns
- 20-Apr-13 @ 8:24 AM
i am student pursuing degree in social work and social administration. what would you pay attention to when listening to client?.
paric
- 15-Mar-13 @ 8:36 AM
I am learning to be a counsellor, can you please help me, what i might say to explain clients rights to a new client. Please help i am stuck.
posion
- 21-Oct-12 @ 10:41 AM
i am a counsellor in practise how do i start a counselling session with a patient with heart failure ?.how do i start the counselling session?
vicky
- 12-Sep-12 @ 12:27 PM
Thanks very much for the information
leopard's wife
- 26-May-11 @ 11:57 AM
I now know how to communicate effectively.
Prince
- 12-Mar-11 @ 1:05 PM