The Difference Between Counselling and Psychotherapy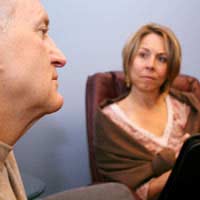 Counselling and Psychotherapy are often considered to be interchangeable therapies that overlap in a number of ways. Counselling, in specific situations, is offered as part of the psychotherapy process; whereas a counsellor may work with clients in a psychotherapeutic manner.
The key difference between the two courses of therapeutic communication treatment lies in the recommended time required to see benefits. Counselling usually refers to a brief treatment that centres around behaviour patterns. Psychotherapy focuses on working with clients for a longer-term and draws from insight into emotional problems and difficulties.
Who's Who?
A psychotherapist is a trained individual who is able to offer a form of counselling to clients. Someone with the same qualifications however, may decide to be called a counsellor instead. Generally a practitioner offering short-term treatment is known as a counsellor. An individual with two or more years of training will opt to be known as a psychotherapist.
To the public the title counsellor appears less intrusive and more easily acceptable than the name psychotherapist suggests. A psychotherapist may therefore call him/herself a counsellor, in order to attract potential clients.
A counsellor will offer a more specialised service of communication that concentrates on providing a structure to the counselling experience. So treatment for addiction, for instance, will be offered in progressive stages over a period of time. A psychotherapist however, will focus on a deeper awareness of emotional issues, and looks at the foundation of the problem.
How to Get Your Expectations Met
Entering into any form of counselling requires a firm commitment on the part of the individual in distress, and open communication. In order to get the most out of the therapy it is best to ensure the correct form of counselling is considered. This starts by choosing to visit the type of therapist who is best skilled in the area you most need to focus on. For instance, a psychotherapist is the ideal person to help you deal with deep-seated problems and issues, whilst an addictions counsellor will help you understand dependency issues.
Psychotherapy will allow you to examine feelings, actions and thoughts and to learn how to evaluate and adjust where appropriate. Counselling however will enable you to explore personal development and to create adjustments to your life. Making a distinction between the two forms of therapy allows a better understanding of the process involved throughout the course of therapy. Both methods of counselling therapy provide people with a way of dealing with change psychologically.
Key Differences
Counselling:
Helps people identify problems and crises and encourages them to take positive steps to resolve these issues.
It is the best course of therapeutic treatment for anyone who already has an understanding of wellbeing, and who is also able to resolve problems.
Counselling is a short-term process that encourages the change of behaviour.
Psychotherapy:
Helps people with psychological problems that have built up over the course of a long period of time.
It will help you understand your feelings, thoughts and actions more clearly.
Psychotherapy is a longer-term process of treatment that identifies emotional issues and the background to problems and difficulties.
You might also like...
Got it the words not the same ....Thanks .. Guess i have better knowledge now .. Thanks info was helpful
Davic
- 3-Jul-19 @ 8:54 AM
This is really helpful, I was so confused about the difference, now I clearly understood, also I want to ask a question, if I start studying psychology for counseling, can I upgrade myself later into a psychotherapist? You stated that it requires more years bring a psychotherapist than a counselor, I just want to ask if I can do both courses in a row or something, or will I have to choose a specific option between the two? Although I am good at counseling with my friends in need (I don't have any degrees, just in normal life) I like to explore deeper into it for which is have to study psychotherapy, I'm confused, plz explain me asap, thankyou
Butterscotch
- 13-Jun-19 @ 9:29 PM
I find your website very informative and helpful. I am a Bible Teacher and Biblical Counselor. I am interested to participate in your discussions.
Jeremie
- 2-Apr-19 @ 3:05 AM
Reading the official definition, then the varying comments, I'm even more confused by what is the definite distinction. Here is how I see it... Counselling is very short term, is mostly listening and the responding is with the words that suggest "why" so-and-so happened, summarising "what" has happened and "what" action now needs to be taken. Coaching is short-term, is for defined actionable behaviour that involves no risk of psychological damage, structured with "what" has to be done and "how" to achieve each objective. Psychotherapy is normally long-term to very long-term, is much listening but responding with words that advise "why" something happened, "what" has happened, "what" action must be taken and "how" to achieve the ultimate goal of mental well-being. For the counselling and coaching, formal qualifications for a charged fee are desirable, but a layperson for donations or just for free in a voluntary capacity should not be impeded so long as there is no risk of psychological damage. For psychotherapy, formal qualifications of several years duration must be achieved and a high professional fee can then be justified. Unlike other countries, Britain doesn't well distinguish between the technician and the professional. I think we should, thus patients have a hierachy of services available.
Pete Pimpernel
- 3-Jun-18 @ 1:39 PM
It amazing, very much informative. keep it on We are into physiotherapy business, do check us out.
lee
- 21-Feb-18 @ 11:12 AM
If I had schizophrenic like symptoms when I was younger but they disappear for some strange reason will they appear again later on when I get older with or without external substances or external stress in/around me? Also would a psychotherapist be better than a counselor or would a mental hospital help better either of them? Also I would like to know how do I get diagnosed with mental disorders?
K-star
- 5-Jan-18 @ 6:53 AM
Mali - Your Question:
What are the differences and similarities ofCounselling and Psychotherapy ?Please send me the answer in point form.Thanks
---
Our Response:
The information contained in the article does just that.
TheCounsellorsGuide
- 4-Jan-18 @ 1:56 PM
What are the differences and similarities of Counselling and Psychotherapy ? Please send me the answer in point form. Thanks
Mali
- 4-Jan-18 @ 5:58 AM
@orepa - nice try, sounds like a homework question to me :)))))))
Sabnvo
- 13-Nov-17 @ 12:17 PM
please help me on this; with three main reasons, draw the inherent distinction between counseling and therapy
orepa
- 13-Nov-17 @ 1:52 AM
The article makes 'Counsellors' sound like CBT 'practitioners' yet still explains 'details' not substance? Erase and start again please before more are mislead.
Buddy
- 19-Oct-17 @ 2:53 PM
How do I build and brand myself up as a psychotherapist now that and studying guidance and counseling at the masters levels, which institution and materials could make me realise this ambition
Patoooo
- 17-Apr-17 @ 9:18 AM
Psychotherapy uses a more psychoanalytical approach and the training is certainlymore than three years . You are also expected to be in personal therapy twice weekly at least for a year. Since CBT training , this has all changed -Where personal therapy is not seen as important duringtraining. This has certainly led to confusion and blurred boundaries between therapeutic approaches, I believe.
Tania
- 11-Feb-17 @ 9:10 PM
Is counselling a job that mostly refers clients to psychotherapy because it's not there job description to handle certain mental disorder?
InsanelySane
- 21-Oct-16 @ 12:19 AM
At what stage do an individual needs the service of a professional personnel called "counsellor" therapist.
Freddie
- 5-Oct-16 @ 6:14 PM
Where does this put Life Coach. I just started a certificate program to go along with my Reiki and Meditation facilitation practice. The Life Coach role for me is because as I apply active healing or meditate with clients, emotions and feelings come up and I would like to be able to listen and hold a space with my client. Occasionally In a helping way I will need to encourage them to move forward.Is this considered Councellng?
Debi
- 23-Sep-16 @ 11:09 AM
These differences are entirely disputed. There is no difference between counselling and psychotherapy in terms of length and focus. The differences are not between counselling and psychotherapy, but lie in the modalitity (and thus the theoretical base and interventions) used -and even they are finding a more shared voice these days. If such misinformation is published on this website, it sadly gives me little confidence on behalf of the public for anything else being promoted. I speak as a Professor of Counselling and a senior accredited practitioner of thirty years experience.
The Prof
- 11-Feb-16 @ 5:46 AM
Any qualified counsellor/ psychotherapist who has been counselling people for many years and is having personal/clinical supervision AND is not stuck in a counselling model will tell you that to be effective one can skillfully pivot or indeed cross over between counselling and psychotherapy. Get over yourselves people,with all due respect I am not defined by a counselling model or indeed a group of guys in the 1960's or thereabout who decided what models, approaches and titles we should have or use. If you truly have the ability to help people you will embrace your unique abilities and draw from whatever sources that are available to you, it is that alone that will make a difference.I can be whatever I need to be and use all the tools available to me from any field of psychotherapy for the betterment of the client. Even the greatest amongst us is still learning.
Patrick
- 13-Jan-16 @ 9:09 AM
Some of this is accurate and some of this is a lot of rubbish and needs updating. Counsellors work on a less indepth level and psychotherapists undergo intense training on theory including learning about themselves too. Counselling is good to use on people who do already have good coping strategies in place and will not struggling with the concept of staying positive. Asking some clients in depressive states to stay positive and giving them 'homework' between sessions however can be shaming and counterproductive, leading to a louder inner critical voice. Psychotherapy can often delve into childhood - whether the client says it was good or bad, to understand their human development, behavioural, cognitive and emotional patterns, working its way to the present enabling the client to develop a much better understanding of themselves as a person, eradicating negative self believes/values and strenghtening their adult self.
Dee
- 11-Oct-15 @ 4:38 PM
I was given a project with a topic titled "counselling as the core of therapy is frequently undervalued". Discuss. I really don't have an idea on how to start. Please help me out
lady h
- 15-Sep-15 @ 10:13 AM
As a Cognitive Behavioural Psychotherapist and Clinical Supervisor I feel the distinction between Counsellors and psychotherapists is very clear. Counsellors deal with a specific problem or issue over a short period of time; where the person may not understand their thoughts and feelings around the issues but are taught how to handle this while receiving support.Psychotherapy is focusing not only on the issues but more an understanding of how they affect the individual, learning more about themselves in a sort of self-exploration to help grow, learn and understand.Psychotherapy can take a longer time to undertake this level of understanding where counselling does not require such a in-depth treatment. Counselling is normally over shorter period of time, in CBT it can be up to 12 sessions, whereas psychotherapy can be suited to the needs of the client.
Thanks. It helps me alot about my homew0rk. :)
Jeulgeoum
- 18-Jul-15 @ 3:22 PM
I think psychotherapy basically done on patients having neurological disorders while counseling can be done on normal psychological problems.
Sunita
- 19-Jan-15 @ 3:58 PM
hello I have a question I hope it can be answered in a good manner. Iv been thru a custody battle in which resulted in my ex partner was told she got to have therapy help.. is there a difference between a mental health team and a therapy team? kind reguards
dai bailey
- 7-Sep-14 @ 12:17 PM
I'm a graduate student in psychodynamic counselling and I feel both summary's describe better CBT. Psychotherapy at its very least try's to encourage through the management of anxiety and the encounter with an open thoughtful and emotionally available mind (or person) a curiosity about ones own emotions and drives. A client who has very little insight or interest in their own wellbeing or safety might with support be able to begin to be curious and and gain insight into such through this experience. It is this dynamic containing function of the therapeutic relationship which allows the client to hopefully begin the establish a secure base within their inner world. Enabling an ability to tolerate anxiety and persecutory feelings. It is at this point that 'behaviour' changes and people can begin to get 'better'. Semantics aside when the focus is on behaviour modification and giving advice or coaching in relation to specific issues you stop being a Psychodynamic Counsellor. I feel this article is poorly researched and will create further misunderstanding for those trying to make decisions in relation to beginning their own therapy and what they should expect to gain from it.
Concerned.com
- 5-Sep-14 @ 12:17 AM
i love been a trained counselor and i need some counseling material for my Master degree here in country Nigeria
uncleB
- 25-Aug-14 @ 6:27 PM
counselling "is the best course of therapeutic treatment for anyone who already has an understanding of wellbeing, and who is also able to resolve problems". i'm sorry but this statement begs so many questions that it's hard to know where to start. what does "an understanding of wellbeing" mean? what does "able to resolve problems" mean? this suggests that psychotherapy is for those who are less 'highly functioning' (another questionable concept) than those who will benefit from counselling. the opposite may well be the case, as psychotherapy can in many ways be more demanding for the client/patient than counselling. psychotherapy may be helpful to 'prepare' clients for a more task-orientated approach, but also for those who wish to go beyond problem-solving to a deeper knowledge of the self. what is also interesting of course is that qualified counsellors tend to say there is no difference, whereas qualified psychotherapists will tend to say there is. make of that what you will, but if there is really no difference then a lot of people spending much time and money on costly and demanding psychotherapy trainings are being ripped off, and so are people who approach psychotherapists in good faith expecting (in my view rightly) something different from what they might from counselling. incidentally this issue is reproduced higher up the food chain by psychotherapists who call themselves psychoanalysts without having gone through an analytic training, and by psychoanalysts who (in my view rightly) object to this.
joek
- 23-Jan-14 @ 2:24 PM
I've been retired for 10 years but involved in listening organisations for 20 years, which motivated me to attend night classes and qualified with a diplomain 'counselling' written on my certificate. I don't see these credentials as anything 'less than' to whatever else people may or may not wish to call me. Indeed such concerns for self could take my locus of evaluation off my client of where they are, and where they would like to be. I therefore see the subjectmatter as mute, being of self interest. Having had my recent application foraccreditation returned by our professional gatekeeper BACP for correction due to some omissions on 'reflection' I am keen to learn from their pointer so that I can not only resubmit to be passed, but also understand how I can use it to try + help all future clients to a better level. 'Would be helper' might therefore be amore appropriate/honest name to be called, though less grand.
Scotty
- 29-Jun-13 @ 11:42 PM
The issue of counselling and Psycho-therapy and the differences has been a long confusing and heated arguement within the community of talking treatment. However, I believe that they are the same. Both work in long and short term therapy with client, depending on their needs. I also think that, the more integrative in terms of training, lent of training and qualification will determine which title an individual therapist can hold. I 'm a qualified counsellor with three years of clinical experience with substance mis-use client group, and at moment I'm on degree level course at Greenwich university just to enhance my professional development. I don't mind to address myself as a counsellor or psycho-therapist, what matters to me is help people in distress and to see them over come their problems.
chissy
- 21-Sep-11 @ 7:31 AM
The fact that this differentiates between counselling and psychotherapy is to some of us offensive.I thank 'Confused Counsellor' for their post and think they give a really good point as to why counselling and psychotherapy should be seen as one thing and not distinguished. The 'key differences' are not differences - they do not exist. I do acknowledge that many do not see the two things as the same.In fact it is a hotly debated issue but for some of us the debate is meaningless. If, psychotherapy is 'a longer-term process of treatment' and counselling is 'a short-term process' why is it that Cognitive Behaviour Therapists (who see themselves as psychotherapists and set themselves apart from counsellors) often do not engage in the long term open-ended work that that many person-centred counsellors do? Waiting for you to change your website. Congruence
Congruence
- 19-Jun-11 @ 1:50 PM